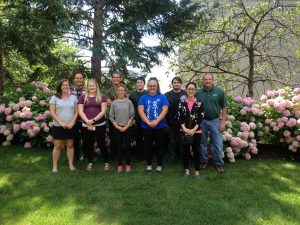 Each summer we ask for anonymous feedback from our researchers.  Below are a few comments we received:
I loved the work environment here at MSUBI.  All the employees here were great and very helpful.  My favorite part was meeting new people and making some life long friendships.
The project was geared towards my general understanding experience and future use of skills.  It was definitely assigned in the direction of my interests.
Communication was on-going, so if changes needed to be made or difficulties with the project were present then adjustments were made.
The experience provided a valuable practice for graduate school lab practices.  Work was independent but help from those with more experience could be sought out.
I enjoyed my colleagues the most out of the internship.  They are all very intelligent and great for advice and seeking information.  The tours were also super interesting because I had never seen this type of chemistry application before.  I loved it.
Science takes time.  Reactions will run and fail, staying optimistic is the real skill to develop with the research because it does not go perfectly according to plan.
This was a great 10 week program.  I loved working here and will be very sad to leave.  Working here has been the best experience I have ever had.
I will be letting my department know about the program.
Suggestions for improvement?
Maybe go kayaking or mini golfing.
Great suggestion.  I like the way you think.
Thanks to all of our summer researchers.  Some great advances were made this summer and it was due to your hard work.  We are excited about the future applications of your research, and we are also very excited about your futures!  We had a great summer and I'm glad to hear from your comments that you did too.  Please keep in touch, you know where to find us…