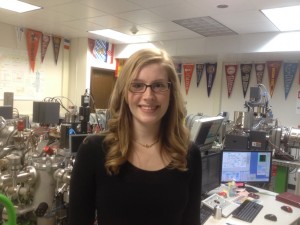 Jody Wycech checked in with us recently.  She completed an analytical chemistry internship at Michigan State University-Bioeconomy Institute in the summer of 2012, and is now a Geochemistry Ph.D. candidate at the University of Wisconsin-Madison.  Jody reconstructs past ocean-climate conditions using the geochemistry of the calcite shells of marine microfossils (foraminifera). She specifically investigates how reactions on the seafloor, diagenesis, affect the shell chemistry and derived paleoclimate records using in situ techniques such as electron probe microanalysis and secondary ion mass spectrometry.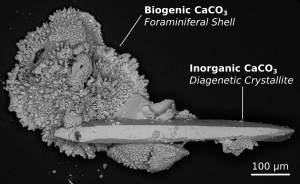 Secondary electron scanning electron microscopy image of a 55.5 million year old foraminiferal shell that lived in the upper water column attached to an inorganically precipitated calcite crystal formed after the shell's deposition on the seafloor. The two mineral phases have distinct geochemical signatures, and can be separately analyzed with in situ techniques to more accurately reconstruct past ocean conditions.
Great to hear from you, Jody!