Anthony is an undergraduate at Alma College.  He is a Chemistry major with emphasis in Organic Synthesis.
Synthesis of Tri-functional Pyridinium Compounds for Electrochemical Applications; Anthony Porath, Dr. Thomas Guarr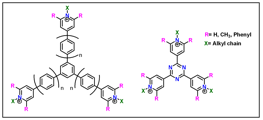 Quaternary salts of tri-functional pyridinium compounds could offer small, multi-electron organic components to be used in electrochemical processes. Not many organic molecules of this type are in common use. The methyl and hydrogen substituted versions have been successfully prepared utilizing Suzuki coupling. The phenyl substituted variety is in progress using a pyrylium intermediate. Future work will involve inserting a p-phenylene bridge between the pyridine and the central ring, and working on hexa-functional pyridinium complexes.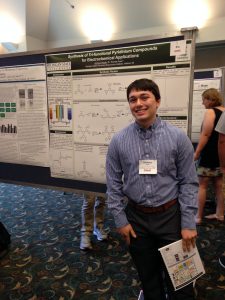 Anthony worked very hard in our lab this summer.  He has a bright future ahead.  He will graduate from Alma College next spring and move on to great things.  Remember to keep in touch and let us know what your future holds.