We are pleased to announce that Dr. Jason Gillmore will be joining our group.  He is a Professor of Chemistry at Hope College.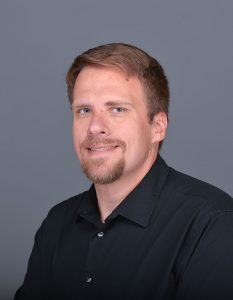 From the Hope College website…
Jason Gillmore joined the faculty at Hope in July 2004. Tenured and promoted in 2010 and promoted again in 2016, Professor Gillmore has also been a Schaap Research Fellow since 2013. Professor Gillmore is on sabbatical for the 2018–19 acadmic year, dividing his time between his own laboratory at Hope College and the MSU Bioeconomy Institute and its Organic Energy Storage Lab.
In addition to his teaching responsibilities, Jason maintains a research group of three to six undergraduate students in the summer and throughout the academic year. His research interests include organic photochemistry and electrochemistry, photochromism, photoinduced charge transfer, photoresponsive materials, computation and heteroaromatic synthesis.
Dr. Gillmore will be taking his sabbatical with our group during the 2018/19 school year.  We are very pleased to have him join us and we look forward to his time and his contributions.