Two high school students from Pennsylvania contacted MSU Bioeconomy Institute's Director of R and D, Dr. Thomas Guarr, for help with designing a "bio-battery" for the PA Invention Convention competition.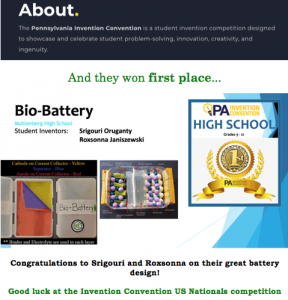 *** 1st Place !!!!!!!!!!!!!!!!!!!!!!!!!!!!!!!!!!!!!!!!!!!!!!!!!!!!****
Hi Dr. Guarr,
Hope you are doing well. The results for the competition we submitted our battery system to came back… AND WE GOT FIRST PLACE!!! We are beyond elated and excited, and we could not have done this without your help and guidance. Thanks to you we were able to understand the interesting field of electrochemistry and learn how to use Spartan. We are extremely grateful for your time, patience, and understanding during this venture. The advice you gave us and the opportunities they provided will always be with us even after the competition is over. The next step is nationals, which would have been in Michigan if COVID was not here. Regardless, we are ready to tackle the next round!!
Thank you for everything.